Host a professionally-catered All-American BBQ or picnic at your home or business without worrying about menu planning, shopping, preparing food and beverages − and being stuck behind the hot grill during your party!
Sir Ives Catered Barbecues & Picnics arrives at your party location and does it all—menu design, set-up, service and clean-up.
Your job? Enjoy being a guest at your own party!
Whether you are hosting a catered backyard barbecue in Monmouth County or a catered picnic on the beach in Ocean County for your employees, Sir Ives will manage the event and ensure your guests have a marvelous time.
We'll start by discussing several different barbecue themes you may wish to consider. Here in New Jersey, Shore-style clambakes are popular for barbies and traditional American barbecues offering premium-quality burgers, ribs, steaks, pulled pork, shrimp and chicken are always crowd-pleasers.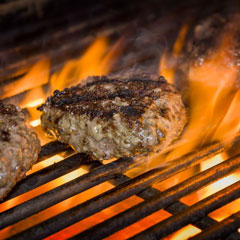 Sir Ives Catered Barbecues & Picnics specializes in:
Family celebration barbecues
Weddings barbecues
Catered barbecue fundraisers
Corporate barbecues or company picnics
School catered picnics
Outstanding professional catering and unmatched quality
In addition to a delicious catered barbecue, we provide professional and courteous prep and service staff, including our grilling specialists, to ensure every guest is well tended to and enjoys a delicious meal.
You might be surprised at how elaborate today's catered barbecues can be. For more lavish occasions, we recommend juicy filet mignon presented with the freshest Chilean sea bass surrounded by a bountiful assortment of the season's freshest roasted vegetables.
The Sir Ives off-premise catering team has several cost-effective classic picnic menus or we can build a custom menu based upon your personal preferences. We'll work within your budget to provide an impressive and well-managed event that will become a tradition in your family or business.
During the past 25 years, we've catered picnics and barbecues for groups of 50 to 1500 with a personalized touch appreciated by our clients.
If you would like to truly relax at your next catered BBQ, you can count on Sir Ives Catered Barbecues to host an outdoor party you and your friends will never forget.
Request a quote from Sir Ives Catered Barbecues today or call us to schedule a phone conference to talk about your private party catering needs by calling (732) 521-1108.