Passed Hors d'oeuvres | Plated Sit-down Dinners | Themed Menus | Attended Buffet
Sushi Bars | Cocktail Hour | Specialty Cocktail & Mocktail Mixes | Dessert Bars
If you live in New York or New Jersey, you know we all love a reason to have a party!  Over the years, we have catered formal, informal, huge and more intimate celebrations for life's important occasions.
And because we specialize in off-premise catering, we can set up a wonderful party just about anywhere!
From retirement parties to catered anniversary parties, we will help you discover the ideal location, theme, menu and decor to set the stage for a celebration that will be talked about long after your guests have departed.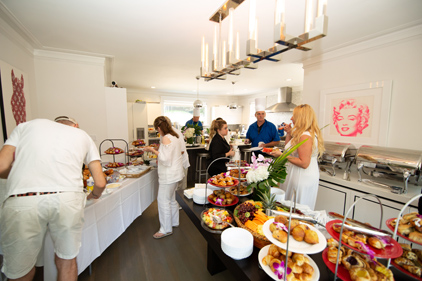 If you are celebrating a baptism, first communion, confirmation or other religious milestone, we offer wonderful brunch, luncheon and dinner menus to properly honor the child and family members.
The executive chefs at Sir Ives Caterers procure the freshest and most delicious foods of the season from in and around New Jersey to design our inventive menus. Whether you'd like us to create your menu or you have your own perfect menu in mind, your cuisine is going to be nothing short of divine.