At every corporate or private event we cater, a Sir Ives specialty touch is to feature something simple, delicious and unusual.
Here's a perfect example you may wish to use for your weekend entertaining:
Whenever we present these simple and summer-fresh kabobs, our clients and guests always remark how pretty and tasty they look and taste.
If you are finalizing your Fourth of July menu, this may be just the dessert to WOW your guests!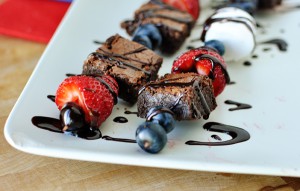 Sir Ives Caterers Brownie and Fruit Kabobs
Start with homemade or purchased brownies that are not too soft. Chill them before threading onto the skewers to harden them up a bit. (Chill your strawberries and blueberries also.)
Grab a bag of grocery store marshmallows (yes you may be able to find patriotic versions!) and thread away.
Finally, it's drizzle time!  In a quick back-and-forth motion, drizzle the kabobs with chocolate right out of the bottle!
Chill them for a few minutes or serve immediately.
Enjoy and Happy Fourth!
(photos courtesy of www.melskitchencafe.com)