Jul
24
By Christopher F. Ives, Executive Chef, Sir Ives Caterers, Monroe Township
A beautiful salad course is key to a wonderful wedding reception meal, particularly in the summer months when vegetables are at their freshest.
In th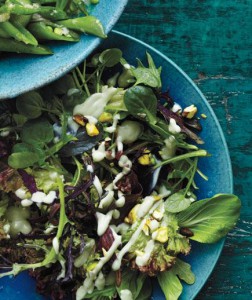 e past year, we've updated and enhanced our special occasion salad course selections.
The Sir Ives executive chef team here in our Monroe offices sampled hundreds of salad combinations and dressings. We concluded that simple, flavorful ingredients work best, especially when you add a little crunch with a sweet and salty punch.
Our goal was to offer a fresh, beautiful salad presentation that surprises guests and subtly lets them know that a special and memorable meal is forthcoming!
We'd like to share our most popular salad  course ordered by Sir Ives clients for their summer 2015 menus here in NJ.
I hope you will enjoy it as much as our guests do!
Sir Ives' Artisan Lettuces With Avocado Dressing and Pistachios
Serves 8 Guests
Ingredients
1 diced avocado
1 cup buttermilk
4 teaspoons sherry vinegar or red wine vinegar
kosher salt and black pepper
12 cups mixed color spring lettuces (such as red leaf, watercress, and baby bok choy) lightly chopped if necessary
1 cup shelled roasted pistachios
Directions
In a food processor, process the avocado, buttermilk, vinegar and spices until smooth.
Immediately before serving, drizzle the lettuces with the dressing and sprinkle with pistachios.
Present on beautiful plates with a thin slice of sweet Artisan bread.
Enjoy!
Photo courtesy of Anna Williams at RealSimple.com