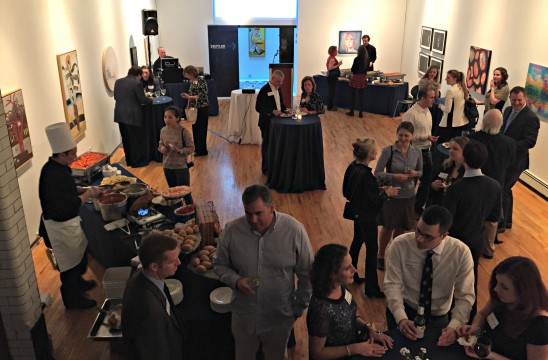 Sir Ives Caterers Manhattan Division catered a business event for 100+ Butler University alumni who live in New York City last week. They gave us free reign to design the space, define the menu and serve in whatever fashion we felt suited the occasion, budget and number of guests.
We oversee corporate catered events here in New Jersey several times a week and, increasingly, are venturing more often into New York, which is more challenging logistically, but a lot of fun for all of us.
For this catered cocktail party, held in a loft on the top floor of a beautiful brick 4-story walk-up, we had four different bars set up so no one had to wait more than a couple of minutes for a drink (very important).
Fresh and eclectic hors d'oeuvres were offered at manned stations and passed throughout the evening, ranging from hot to cold finger foods and evolving into sweeter options later in the evening.
We also included vegan, gluten free and low carb selections which were requested by the client.
Sir Ives has been catering corporate events for more than 30 years, so even the challenge of working in a 4th floor walk-up (that's right, no elevator) was just another day at the office for us.
Read More